Many of us just celebrated Thanksgiving in the U.S. This is a day where we gather with those we love and pause to reflect on all the things we have to be thankful for. Granted, we have a tremendous amount of blessings all around us, yet often for the other 364 days of the year, our giving thanks is blurred by the busyness of living and an internal drive that pushes us to be-do-or have more to compensate for a deep wound many of us carry from our earlier life.
This wound can be expressed many different ways, though its core can be summarized as a relentless pursuit to prove that we matter and that our life has significance. The wound carries the message that we aren't good enough or we aren't loved or supported by life and those we had to depend on.
WHY WE FEEL THIS WAY
Some of us received this communication in overt ways with the presence of emotional or physical abuse and for others it was more subtle but still present.  Unfortunately, most people don't have awareness of how they are communicating with the people in their life or they have a belief that others should just know that they matter, without ever actually telling them that they do.  Add in a lack of emotional intelligence and it becomes more obvious how our wounds get passed down from generation to generation without any insight or understanding of what is happening.
While access to food and shelter is a basic need, so is the psychological need of receiving love and feeling like we belong. If we grew up in an environment that was emotionally constricted, we will carry that deficit with us in life and that part of us will seek confirmation that we are good enough and worthy of another's time, love and attention. We will also attract situations and people into our life who are emotionally unavailable thereby creating circumstances that perpetuate that pattern for us.
Our energy is sensitive. As we go through life we pick up on the nonverbal cueing and the mixed messages being sent by those we are in relationship with: our parents, our partners, our siblings, our friendships, our colleagues etc.  These communications may be another person's regressed coping skills, shadow projections and emotional deficits; however they become part of our identity and how we see ourselves.
A lot of us then develop a hyper competency to mask the feelings of inferiority and insufficiency. We become perfectionists, achievers, over givers and over doers. We seek a grand mission or vision to prove our worth thinking that if we make an impact on others, then we will matter and others will give us their love. If our energy is more repressive then reactive, we may struggle with addiction to numb out our feelings of worthlessness or battle depression. A prevailing thought is "Will anyone notice if I'm no longer on this planet?"
The truth is it's not really about our being good enough because we are Divinity in physical form – we are MATTER and we do MATTER with no prerequisite that we prove our worth. But that isn't our wounded self's perspective.
CREATING FEELINGS OF WORTH
Life is full of reminders that we are significant and our life influences others. For today, I'm drawn to a list of 5 from Dr. Seuss that I believe beautifully illustrate powerful lessons that we can incorporate into our knowing.
1. TODAY YOU ARE YOU, THAT IS TRUER THAN TRUE. THERE IS NO ONE ALIVE WHO IS YOUER THAN YOU.
The very core of your essence is love and worthiness.  Your Soul is choosing experiences, often through challenge and contrast to get you to wake up to the truth of who you are: a truly unique expression of the Divine. Heal the wound and embrace the gift hidden in the challenge.
2. WHY FIT IN WHEN YOU WERE BORN TO STAND OUT?
Unworthiness encourages imitation and mediocrity.  But that isn't your truth.  Be BOLD. BE THE NON-WATERED DOWN VERSION OF YOU.
3. YOU HAVE BRAINS IN YOUR HEAD. YOU HAVE FEET IN YOUR SHOES. YOU CAN STEER YOURSELF ANY DIRECTION YOU CHOOSE.
Everyone's life is a demonstration of what matters to them. Surround yourself with people who consistently communicate that you matter. Don't settle for anything less!  Sometimes that means getting different partners or friends.  Exercise free will and the power of your choice.
4. BE WHO YOU ARE AND SAY WHAT YOU FEEL, BECAUSE THOSE WHO MIND DON'T MATTER AND THOSE WHO MATTER DON'T MIND.
If you can't be yourself and say what you feel, then you are buying into a belief that isn't true.  Choose environments that nurture, uplift and encourage you to be fully and authentically you…
5. TODAY I SHALL BEHAVE AS IF THIS IS THE DAY I WILL BE REMEMBERED.
Because you matter, live your life as though others do too. Share your gifts, your wisdom and your knowledge and really demonstrate what it means to live a life of SIGNIFICANCE!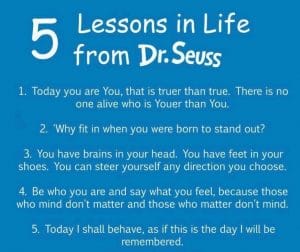 We are all on a journey.  Everything we do matters and every person matters. Please take the time to tell the people in your life what they mean to you. Don't assume they know! As we heal our wounds, we can be truly thankful and celebrate our gratitude every day of the year.